Summer Horse Camps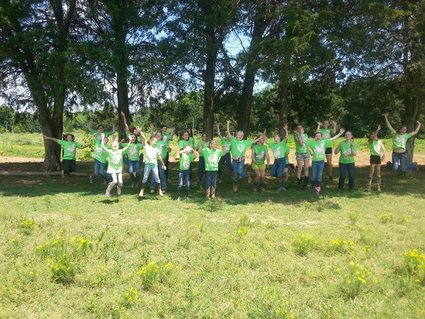 ​Need A Hand Horse Training offers fun and safe summer camps for both youth and adults. Campers learn basic horsemanship skills, ride daily, and participate in horse related crafts and games.
​
2019 Summer Camp Information
Welcome to the Need A Hand Horse Training Summer Camp!
Please fill out the online registration and upon submission you will be redirected to the payment page via paypal.
Payment may also be made by check mailed to
ATTN: Summer Camp
NAH
3815 Woodbury Pike
Murfreesboro, TN 37127
Camper's Checklist forms and details on camp agendas are available below.
Early Registration ends May 15th
REGISTER ONLINE BY CLICKING HERE

June 24-28, 2019 Everything Horses Camp Ages 6 & Up
Camp Cost $250 (Early Registration $199)
July 8-12, 2019 Rodeo Camp Ages 6 & Up
Camp Cost $250 (Early Registration $199)
July 22-26, 2019 Advanced Riding Boot Camp 13 & UP
Previous Riding a MUST
Camp Cost $250 (Early Registration $199)
Board Available for campers horse $10/day
Discount Deadline May 15th!
Camp payment is
NON REFUNDABLE
​​
Start times
Full Day Monday - Thursday 9:00-4:00 Friday 9:00- 2:30PM
Pickup till 4:30
​Friday's Horse Show begins at 1:00PM
Prices
$250 Full Day
(register by May 15th for discount!)
​Camp price includes unlimited water, craft supplies, personalized camp photo,
​ Camp Tshirt & unlimited Knowledge and Fun!

*No Early Drop OFF
*Students Provide their own Lunch and SNACKS
*Water Provided

​
Needed Forms
(Click Form Name for a PDF file)
​
Campers Checklist
​Riding Release
​
​
---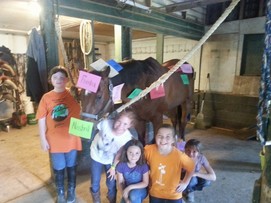 ​Everything Horses Camp
June 24-28, 2019
​
​This camp has been our biggest camp each year and always fills quickly!
​Campers will learn basic horsemanship and care while also learning about the different types of riding styles including Western, English, Jumping, Barrel Racing, and many more.
​Each day campers rotate through a series of educational stations that will teach them more about horses and the riding style they are learning that day. Campers ride in a group lesson setting and will ride morning and afternoon. Education stations are all horse related and range from learning to determine a horses weight and balance their diet to learning the parts of the horse and tack.
​We believe in teaching all aspects of horsemanship not just riding so campers can expect to get lots of hands on experience. They will learn how to properly feed horses, clean stalls, care for their equipment, study anatomy, exercise physiology, and behavior. Our educated and CHA certified instructor make learning fun and easy to understand for all ages and riding levels.
​While education and safety are top goals we can't leave out the FUN! Campers will participate in horse themed games and crafts as well as the all time favorite WATER DAY!
On Friday of Camp week we end with a mock Horse Show for all our family and parents to come watch and see how much our campers have learned all week.
​
---
---
Rodeo Camp
July 8-12, 2019
Everyone LOVES Rodeo Camp! At rodeo camp we spend the week learning about different rodeo events and practicing on camp horses. Campers will rotate thru education stations that will have a rodeo theme, practice rodeo games on horseback and perform as a drill team for the Mock Rodeo hosted on Friday at 1:00. This week is filled with fun and games as our campers try their hand at everything from dummy roping to goat tying.

​Always a hug hit and fills quickly so RESERVE your spot today!
​
---
Advanced Riding Boot Camp
​
Limit to 12 Riders
July 22-26, 2019
​
(campers must have previous riding experience and be able to walk trot and canter on an unfamiliar horse in a group setting)
​These camps will be an intensive learning environment. Need A Hand Intensive/Boot Camp is designed for the rider that is looking to improve their horsemanship skills and broaden their knowledge. We will learn groundwork techniques, horse behavior, nutrition, and spend lots of time in the saddle. Riders may ride both English or Western. Do not own a horse? NO PROBLEM! We have one just for you!

Each day will be broken into multiple training/riding sessions:
Morning Session:
Rider Workout- riders will learn exercises that will help them become stronger in the saddle and improve performance, these will be an intense physical workout
Classroom instruction: Riders will meet briefly prior to riding for a classroom instruction on riding theory and briefing on the lessons for the day
Riding Lesson: Morning riding lesson working on developing the riders and horse for improved communication and performance
LUNCH BREAK
Afternoon Session:
Rider Workout- Physical and Mental components working towards leadership skills, mental preparedness, and goal setting
Riding Session: Afternoon riding lesson working on developing the riders and horse for improved communication and performance

Riders will be assigned a horse for the week that they are responsible for caring for. Riders will have the opportunity to ride multiple horses to better their horsemanship skills.
​
High intensity, Lots of saddle time, lots of sweat!
---